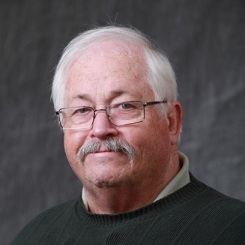 Dr. Roger is a Professor of Practice in Human-Computer Interaction and a member of the Information Technology faculty. His teaching a research focuses on design, development and evaluation of human-computer interactions, computer interfaces, user-centered design, and user-experience design.
"I'm interested in understanding how people user computers and computer-like devices to accomplish tasks they must do and things that they like to do with an eye towards designing products and interfaces that meet their needs. As people move towards a more socially oriented view of computing, their requirements become more varied, and products need to be design to adapt to these ever-changing requirements."
Roger received the IEEE Professional Communication Society's Alfred N. Goldsmith Award and IEEE's Third Millennium Medal; was elected fellow of the Society for Technical Communication, elected Associate Fellow, and was awarded the Society for Technical Communication's Jay R. Gould Award for Excellence in Teaching Technical Communication and President's Award.
His work has appeared in several books, including Text, ConText, and HyperText, The Society of Text: Hypertext, Hypermedia, and the Social Construction of Information, and
Anthology Number 9: Establishing and Supervising Internships, The Association of Teachers of Technical Writing. And he has published in numerous journals including Technical Communication, IEEE Transactions on Professional Communication, and the ACM Journal of Computer Documentation.
He received Rensselaer's David M. Darrin Counseling Award; The Rensselaer Alumni Association's Directors Award, Alumni Key Award, and Teacher of the Year Award.
He is an honorary member of Rensselaer Phalanx Honor Society, an honorary member of Order of Omega, Greek Honorary Society, and was elected to Lambda Chi Alpha fraternity's Order of Merit.
Publications:
Using an online workbook to produce documentation. Technical Communication Grice 1983
Model components and information development: cut & paste enters the computer age. grice 1983
PC-27 2 78 81 'Cut and paste' enters the computer age. IEEE Transactions on Professional Communications Grice 1984
Producing and using online information: the display screen as an extension of the printed page. Grice 1984
Cooperative education: industry-university collaboration in educating technical communication students. Grice 1985
how we used data from our quality program to revise our process. Vreeland Grice 1986
Existential pleasures of technical communication: Personal reflections on a profession Grice 1989
Discussion of modes and motives for usability evaluation IEEE Transactions on Professional Communications Grice Ridgway 1989
Writers' strategies and attitudes in an industrial forum: Background for a study Grice 1989
ET.66 Writing for the '90s. More quality, less quantity (keeping our readers afloat in the sea of information) Proceedings - International Technical Communication Conference Grice 1991
RT.83 RT.86 Advice to the online. Try and try again Proceedings - International Technical Communication Conference Grice 1991
RT.87 RT.90 Advice to the online. Tried and true Proceedings - International Technical Communication Conference Ridgway Grice 1991
Collecting and incorporating feedback from customers. The usefulness of telephone surveys 1993 IEEE International Professional Communication Conference Ridgway Grice 1993
New frontiers for engineering communication. Evolution of communication vehicles 1993 IEEE International Professional Communication Conference Grice Ridgway 1993
Evolution of communication vehicles: Linear progress and cyclical progress IEEE Transactions on Professional Communication Grice Ridgway 1994
Tools and technology stem overview Proceedings/STC, Society for Technical Communication Annual Conference Grice 1996
Rensselaer's certificate program in human-computer interaction: a model for the future IEEE International Professional Communication Conference Geisler Grice Hans Krull See 1996
Redefining curriculum and research initiatives: A new model of university industry partnerships Proceedings/STC, Society for Technical Communication Annual Conference Hans Grice See Krull 1996
Career assessment in changing times Proceedings/STC, Society for Technical Communication Annual Conference Jones Grice Mattingly McGregor 1996
Visions for the information industry: Opportunities and challenges for higher education IEEE International Professional Communication Conference Grice Haselkorn 1997
Analysis of virtual classroom environments: Survey of classroom dynamics in RSVP courses Proceedings/STC, Society for Technical Communication Annual Conference Brunner Grice Hans Hood Smith 1997
Redefining curriculum and research initiatives: The human computer interaction certificate program, a year later Proceedings/STC, Society for Technical Communication Annual Conference Hans Grice Krull See 1997
Who designs the interactive interface? IEEE International Professional Communication Conference Grice 1999
Learning and building strategies with computer games IEEE International Professional Communication Conference Grice Strianese 2000
Applying technical communication theory in the workplace: Can theoretical frameworks survive in the world of e-business? Proceedings/STC, Society for Technical Communication Annual Conference Grice 2001
Extending the dimensions of education: Designing, developing, and delivering effective distance-education classes IEEE International Professional Communication Conference Hart-Davidson Bill Grice Roger 2001
Designing distance-education courses in technical communication and human-computer interaction: Reflections on the role of communication in technological education-historical perspectives and technological evolutions IEEE International Professional Communication Conference Grice Roger 2002
Applying Usability Engineering Methodology to Building a Search Agent for Web Applications IEEE International Professional Communication Conference Chatterjee Mousumi Grice Roger A. Adali Sibel 2003
Content Management Strategy and Heuristic Evaluation of a Model Electronic Portfolio: A Rhetorical Approach IEEE International Professional Communication Conference Roy Debopriyo Grice Roger A. 2003
An adaptive viewing application for the web on personal digital assistants ACM Special Interest Group for Design. of Commun.; SIGDOC 2003: Finding Real-World Solutions for Doc.: How Theory Informs Pract. and Pract. Informs Theory. Proc. of the 21st Annu. Int. Conf. on Doc. Lee Kwang Bok Grice Roger A. 2003
The Embedded Zooming Applications for Personal Digital Assistants IEEE International Professional Communication Conference Lee Kwang Bok Grice Roger A. 2003
Comparison of Cost and Effectiveness of Several Different Usability Evaluation Methods: A Classroom Case Study IEEE International Professional Communication Conference Grice Roger A. 2003
Capping off the undergraduate degree in technical communication-some options IEEE International Professional Communication Conference Davis Marjorie T. Grice Roger A. Williams Thomas R. 2004
Helping readers connect text and visuals in sequential procedural instruction: Developing reader comprehension Technical Communication Roy Debopriyo Grice Roger 2004
Developing a new usability testing method for mobile devices IEEE International Professional Communication Conference Lee Kwang Bok Grice Roger A. 2004
The design and development of user interfaces for voice application in mobile devices IEEE International Professional Communication Conference Lee Kwang B. Grice Roger A. 2006
Usable content in a post-document world IEEE International Professional Communication Conference Geisler Cheryl Novak Matt Bennett Audrey Voorhees Carla Search Patricia Booth Paul Zappen James P. Kenkel Bridgette Isbister Katherine Watt James Chess Shira Shaffer Naoh Young Barry Grice Roger Krull Bob Sharp Mike McCoy Mike 2006
Evaluating our MS in HCI program for completeness and relevance: Conducting and incorporating both internal and external reviewing IEEE International Professional Communication Conference Grice Roger Krull Robert 2007
Heuristics for broader assessment of effectiveness and usability in technology- mediated technical communication Technical Communication Grice Roger A. Bennett Audrey G. Lutzky Raymond A. Rolph Matthew G.J. Zappen James P. Fernheimer Janice W. Geisler Cheryl Krull Robert Search Patricia 2013